Home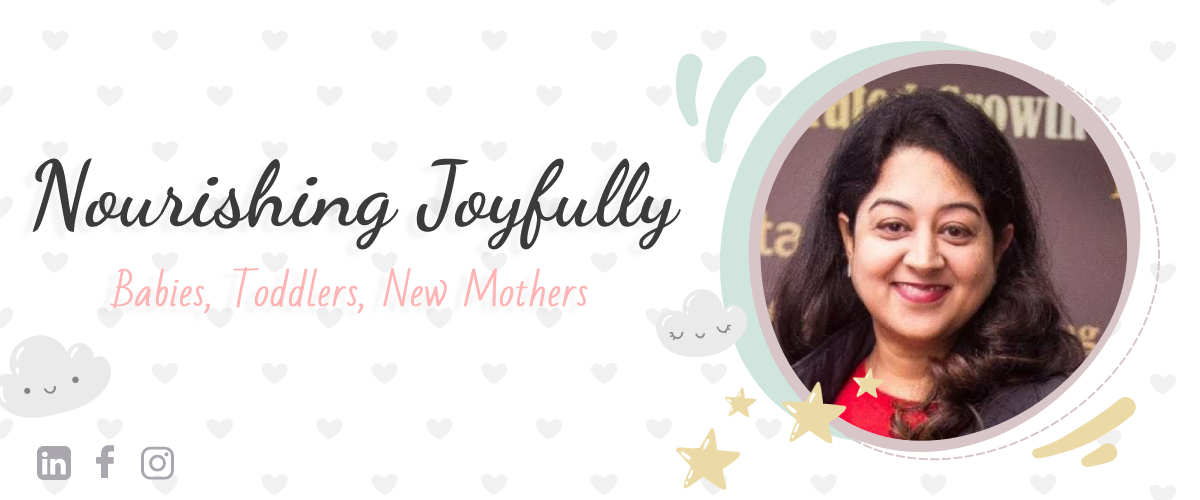 Get my 12+ mamamade kid-friendly nutrition loaded ebook
Perfect for Toddlers and Older Children. Make your mealtimes enjoyable. Add new foods without any confusion
Hi, a warm welcome to all those who are stopping by & willing to know about me.
I am Deepti Arora, an infant & child nutritionist, lactational counsellor & postpartum care professional for new mothers with young babies (just born)
Proudly work with APOLLO CRADLE, Gurgaon as a lactation consultant, postpartum care professional & INFANT nutritionists.
I have special training in transforming picking eating habits in young children, establishing joyful breastfeeding, beginning confidently complementary first foods for babies, and creating nourishing postpartum care plans after birth & personalized meal plans for babies & new mothers to nourish them after birth.
During my holistic journey of more than a decade, I have apprised myself from CAPPA (an international association for pregnancy & childbirth), with advanced certification as a lactational counsellor from BEGIN ED INDIA, with an international certification of infant nutritionist from DEAKIN University, Australia. Internationally certified Maternal Mental Health Professional from PSI INTERNATIONAL.
HOW DO I DO THINGS DIFFERENTLY
Over the years, I am gratefully transforming picking eating habits in young children, establishing joyful breastfeeding,  specializes in complementary first foods for babies from 0-2 years, and creating postpartum care plans from pregnancy to the first forty days.
I share simple wisdom of healing foods to eat, nourishing recipes for both babies & new mothers to nourish them after the child's birth.
I work as a child's well-being creator & believe in nature's power to heal mother and baby from day one.
I perceive 100% natural methods with zero medications at any stage because for me FOOD IS THE FORTUNE
When I work with the new mother through my 1:1's I provide the framework, my time, my expertise, and my love to the whole family involving the baby, mother & father. 
When a new family works with me, I focus on the complete 360-degree nutrition and well-being objectives & benefit them to establish joyful breastfeeding, slow & healing postpartum, and the happiest meal times from 0-2 years
I am happily supporting parents who struggle with erratic baby sleep patterns, picky eating challenges, any lactational struggles, early childhood & behavioral battles, unsorted postpartum initial battles, offering them plenty of opportunities to practice nurturing a baby and a new mother.
My customized and expanded options of easy and implementable,  wider options of recipes including full meal plans(morning till night), the right approach to self-care, offering energy from healing foods, transforming the ways of feeding your baby joyfully, ensuring the nursing rhythm of a mother.
A One-Stop spot for natural, authentic, traditional yet unique solutions for all your queries from breastfeeding care, postpartum care, infant, baby,  care.
Through my 1:1 signature programs, free pieces of training & guidance in my small groups,  PEDIATRICIANS AND GYNECOLOGISTS APPROVED weekly ONLINE sessions, guided consultations with bite-sized solutions, by my 1-minute videos on my youtube channel, Mom Meets Nourishment, through long term &  short term self-paced learning programs.
By now are you feeling differently & wanna dig in more about me and my programs?
Let's connect now. I am sure, we are soulmates.
Reach out to me by a message or call me to have a chat about if this program is a good fit for you and BE ON A JOYFUL NOURISHMENT JOURNEY FROM DAY ONE.